Thursday, May 15th, 2014 by Margarete Kitel
RebusFarm is constantly expanding and therefore we are looking for qualified employees, who wants to join our team. 
Online Supporter / Render Wrangler
Responsibilities:
customer support via phone, mail and chat
Troubleshooting of render jobs
supervise the processing of data
Maintenance of hardware
We are looking for:
3d Software skills (V-Ray and Mental Ray should be known)
good language skills in english and german
Technical skills and interest
independent working
Third language (optional)
Programming skills (optional)
Web Developer / Web Designer
Responsibilities:
Manage the ongoing design/development of www.rebusfarm.net
Creation of new site layouts and user interfaces
Routine daily maintenance of existing site
Introducion of new techniques i.e. responsive pages, etc.
We are looking for:
5+ years of experience as a Designer/Developer or related role
5+ years of exposure to Web-based technologies HTML5, MySql, JavaScript, CSS/CSS3, PHP, node.js, etc.
optional C++, vbscript and Qt
good language skills in english and german
Experience with SEO techniques/strategies, analytics and content management
Online portfolio of website, mobile and/or tablet experiences (examples required)
If you think one of the above described positions are a job for you and you would like to become a part of our team, please send your detailed CV in electronic form to This email address is being protected from spambots. You need JavaScript enabled to view it.
---
Monday, April 14th, 2014 by Margarete Kitel
One minute after a technical failure of her spacecraft, an astronaut finds herself ejected into space from her cockpit. She tries to contact the base to obtain help...in vain.
A horror vision that everybody has probably thought about. The movie "ENTITY" shows what could happen in such a situation, with dramatic scenes, amazing animations, special effects and of course a fantastic view out of space.



ENTITY was directed by Andrew Desmond and produced by ROSSPROD, a French production company founded by Frédéric Rossignol and Laurent Fumeron, specialized in short films. They are currently developing feature films that are in pre-production. ENTITY was rendered at RebusFarm.


It is the first French short film mixed in Dolby Atmos. It is currently selected in 8 festivals since February and has just won Best VFX at the Hollywood Horror Fest in LA. In the following interview you will find out more about the creation process of this movie.
We asked Laurent Fumeron about the work that has been put into this movie:
What was the idea? What was the process of forming the idea?
"Andrew Desmond and Jean-Philippe Ferré started this project two years ago with the will of doing a small SF movie taking place in space, that would be 5 minutes long and really fast to do… Then we started working on it and… it took us a little bit more time :)"
How long have you worked on this project?
Overall we worked on Entity for 2 years, from the idea to the delivery of the film. Jean-Philippe our VFX Supervisor did a full previz of the film before the shooting that took place 1 year ago. We shot in a studio for 2 days filming only the face of Alias, our actress. Then It took us one year to do the editing, VFX, conforming, color grading, music and sound effects. It was a very challenging project!
Tell us something about the rendering process, for example how long was the rendertime?
I don't remember how much frame we rendered but quite a lot.
2 shots of the spaceship (around 1000 frames each) and 30 shots of the astronaut (from 100 frames to 1500 frames) For the first shot of the film, I calculated that on our machine it would have took 25 days to render (without crashes of course) and It render in about 30 minutes on rebus farm.
For us it was really helpful, the longer part was the download process as we used multi passes render but rebus farm made it possible for us to deliver the film on time. If not we would not have done it. I was very happy about it especially because we were working with my team in two different locations and we could launch the render from one place and download it for the other which also saved us some valuable time.
Tell us some technical details/ Which software was used?
Our workflow was very complex. We shot the film in 4K using the Sony F65 that we processed in Linear Aces.
When we started working on the previz before the shooting, we worked in RGB so we had to put everything back in Linear which was quite a lot of work to get the result we wanted.
All the compositing work was done in After-effects. For the 3D shots we used different software's: The Spaceship was done in C4D using VRAY for rendering and the astronaut was created in 3DSMAX also using VRAY. We composited everything back in After-Effects. Then when all the CGI were finished we rendered each shot in several layers to send it to our partner Technicolor for conforming and color grading. This technique allowed us to have great flexibility but was very intense as we had so many layers to work on! We used Smoke and Lustre for this final stage which was particularly helpfull as the two softwares work well together!
What was your biggest challenge during this project?
Everything was quite challenging on this project! Our team was very small so it took us a lot of time and as we're very meticulous we wanted everything to be perfect.
Also when we started the project we worked in After-effects for the previz and as Jean-Philippe did some really nice looking shots in it and was in an advanced stage we decided not to change our workflow. Going back to Nuke would have made us waste a lot of time. That was also a challenge because I think we pushed AE to the maximum of its capabilities specially in term of 2D compositing.
A big thank you to ROSSPROD for taking the time to give us this interview and good luck for upcoming competitions !
---
Thursday, April 3rd, 2014 by Margarete Kitel

We are happy to present to you our newest Artist of the Month: Ingus Rinka!
For creating his winning image, he used 3ds Max with V-Ray and did the post production in Photoshop. Ingus has over 9 years experience as a designer and visualizer.
Congratulations Ingus Rinka!
Check out his webside: www.irdizains.lv
Sadly this is our last Artist of the Month edition for now. We are going to have a break. But if you have some great work to present, do not hesitate to post it on our facebook wall.
The break won't be forever - so keep your eyes open for the continuation of the Artist of the Month!
We will keep you posted.
---
Wednesday, April 2nd, 2014 by Margarete Kitel

AXYZ design announced the release of Anima® 1.6, a new version of the fastest stand-alone crowd animation software with great new features in order to improve liveliness and dynamism in scenes.
Check out the new features of Anima® 1.6!
We are proud to announce that Anima® 1.6 is already supported at RebusFarm.
A big thank you goes to AXYZ for their cooperation!
---
Tuesday, March 11th, 2014 by Margarete Kitel

We talked to Camille Aboukhater, who is a young 3D artist from France. He studied architecture and during his studies, expanded into CGI, which he used in the Video we are talking about in this interview.
The song "Gyration" is made by Ryan Davis and extracted from the album "State of Mind" released on Traum Schallplatten (Traum 169)
Camille, did the artist give you a concept for the music video?
"There was no concept at all! I was asked to do whatever I want. Neither the artist or the label had any idea of what they wanted for this film which was required to promote Ryan Davis' new album on the internet."
What was your idea for this video?
"The idea was to illustrate the "gyration" notion the most abstractly by making evolve visual rhythm and visual intensity with the music."
How long did you work on this project?
"From conception to rendering, this film was produced in 6 weeks."
Could you tell us something about the rendering process?
"There was over 8600 frames to render (6min / 24fps)
Average render time per frame : 8 min on my 6core i7 (3930K)
Thanks to Rebus Farm this took only a few hours!"
Which software did you use?
"Everything was modeled and animated in Cinema 4D R13. The renderings were made with VrayForC4D on Rebus Farm. Post production with Adobe After Effects, editing in Premiere."
What was your biggest challenge during this production?
"Being a 6 minutes video, which is very long, I wanted to concieve the visuals as a film with a sort of narration, to make it easy to watch. I was trained as an architect, and I learned CGI mostly by myself during my studies. I had always work until this on architecture visualisations, or architectural concepts. It was the first time I ever worked on pure motion graphics. So it was very challenging for me to create such evolving abstract forms, trying to retranscribe visually what I feel when I listen to this music!"
This isn't your main field, what interested you in doing this music video?
"I love electronic music since I was a kid, and I've always been very sensible to Ryan's music. It is very rich, powerful, and finely composed. This composition in particular is very progressive, it evolves slowly to reach a harmonic climax driven by energic basses. The multi-layered melody he created in this music was my main focus for this film. I tried to draw all this complexity and those layers with evolving and fragmenting alive-like forms, this to amplify the emotions brought by the music."
Camille thank you for your time it was very interesting to see what's behind the curtain of your work.
To see more of Camille Aboukhaters project check out this:
https://vimeo.com/user13941619
http://www.behance.net/leBouk
---
Monday, February 3rd, 2014 by Margarete Kitel

We are proud to present our new winner of the Artist of the Month competition on facebook.com/RebusFarm.
The winner is Kami Ali!
He works with an Interior Designing Company and his winner Rendering is one of his recent Projects.
The architectural plan hw created with AutoCAD, for the further composition like extrusion, detailing and rendering he used 3ds Max with V-Ray. The Post Production was made in Photoshop.
Congratulations Kami, all this work was worth it!
Check out his website: www.inncreation.com
If you want to be our next winner in the upcoming month March, just visit our facebook.com/RebusFarm page, upload one of your self-made 3D images and send us a personal message with your email address. We'll choose the best image and will contact the winner. The next deadline is March 26th.
Good luck to all of you.
---
Monday, February 10th, 2014 by Margarete Kitel

The competition presented by Humster 3D for the best render has finished and they announced the 3 winners. We saw a lot of amazing submitted car renderings. It was great to be a part of this competition.
Here we present you the winners:
First place:
BMW M6 by Roland Wolf
Tools: 3ds Max, Fume, V-Ray, Nuke
Second Place:
Hotrod Speedshop by Jochem Aarts
Tools: Maya + Mental Ray, Mudbox, Photoshop
Third Place:
IFA Trabant 1981 by Khusnutdinov Nail
Tools: 3dsmax 2011, V-ray, environment HDRI
More information about the winners and their 3D renderings and other submissions you can see here.
---
Friday, February 7th, 2014 by Margarete Kitel

We are happy to present to you our first 3D Artist of the Month in the New Year on facebook.com/RebusFarm.
The first winner of the year 2014 is Ali Mousavi!
Ali currently lives in Teheran. He studied at the Islamic Azad University of Varamin – Pishva. He worked on this project with 3ds Max, Vray and PS. Take a look at this great 3D architectural visualisation.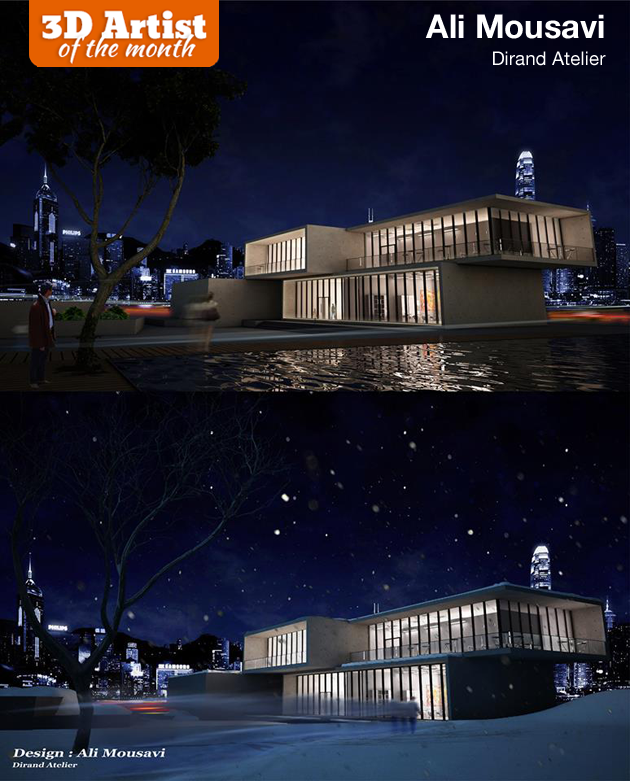 Congratulations to our winner Ali Mousavi!
If you want to be our next winner in the upcoming month February, just visit our facebook.com/RebusFarm page, upload one of your self-made 3D images and send us a personal message with your email address. We'll choose the best image and will contact the winner. The next deadline is February 26th.
Good luck to all of you.
---
Monday, January 27th, 2014 by Margarete Kitel


The creative studio Øyedrops rendered a theme for a show at RebusFarm. An annual show by the Norwegian broadcaster, NRK, where the best Norwegian comedy is awarded. We interviewed Steffen Sæther-Larsen, Art Director at Øyedrops to find out more about the technical implementation and the process details of this project.
 Would you please tell us something about the concept of your theme?
"The price is a bronze jester and the Ident should focus on this statue. This was the 12th year the show went on, and they had the same graphic package from the start so they wanted a profile refresh."
"Our good friends at NRK came to Øyedrops with this idea about an abstract stage setting building up from nothing with the hero jester gathering from small pieces into a final shot with the logo."

Styleframes
How long did you work on this project?
"The whole process from designing styleframes to final delivery was about 3 weeks. One week designing, one week graphic package, super, bumpers etc, and one week ident animating, rendering and comping. "
Tell us something about the rendering process, for example, how long did it take ?
"The ident was 300 frames and we rendered for about 30 hours. The close up of our hero was really heavy, about 10 hours per frame. The 3D motion blur added to this, but in the end it looks so much better than post MB."
"Because of the very short deadline we had to go get the big guns for rendering. We've used Rebusfarm several times before and they deliver the most solid renders in almost no time. We did compressed test renders first, then when everything looked good we rendered the whole piece."
What kind of Software did you use?
"The design was all done in 3D, and DOF was added in post with depth mattes. Other than that it was a common comping setup with beauty passes, layers and mattes being imported into comp and levels adjusted, graded and so on."
What was your biggest challenge during this project?
"The biggest problem with this project was the wish of making something really good, but within such a short time span. There were late nights every day for our 3D department during this project."
We want to thank Øyedrops for taking time to give us this interview.
---
Friday, January 10th, 2014 by Margarete Kitel

The RebusFarm Open 3D Award '14 is over. Thanks to all of the participants for being part of this great competition.
Congratulations to all our winners!
Here we present to you the winners of each category:
Architecture Still
Jury Winner:
Community Winner:
Architecture Animation
Jury Winner: Valentin Ayrault
Community Winner: Alberto Germá Yerga

Shortfilm
Jury Winner: Vahid Barzegar

Community Winner: Fedor Nabokov

Product/Image Animation
Jury Winner: Marcel Vrieswijk
Community Winner: Dieter Magallan
Product/Image Still
Jury Winner:
Community Winner:
---