Tuesday, September 1st, 2015 by Nadine Obst
 
We are happy to introduce to you our Artist of the Month September 2015: Dušan Ković, a CG generalist from Novi Sad, a town in the northern part of Serbia. He created his bodacious work "Coffee Table" to push his lightning and shading skills further. He admited: "In the beginning, I never expected to push the realism that far, and I was really pleased with the result."
Dušan currently works in Eipix Entertainment as a lead animator in the cinematic team. But he is interested in the wide set of areas in the Computer Graphics. "My favourite area is rendering, texturing, shading and lightning, but I also do modeling, rigging and some basic fluid and particle simulations." He gives free rein to his creativity and doesn´t commit himself to a certain subject. "I create art from what is most inspiring for me at the moment. From robots, tanks, scifi to the nature and still life"
Check out his wide range of creativity yourself: https://www.artstation.com/artist/dusankovic
"My main workhorse is Autodesk Maya, mainly because of wast number things you can do within it and I find it most comfortable for work." Aside of Maya, he used Arnold as render engine, Zbrush for sculpting, Quixel Suite / Photoshop for textures, and After Effects for composting.
If you want to be our next winner in the upcoming month October and win 250 Renderpoints , just visit our facebook page, upload one of your self-made 3D images and send us a personal message with your email address. We'll choose the best image and will contact the winner.
---
Monday, August 31st, 2015 by Maggie Kitel

After our first Siggraph in Vancouver last year, we´ve been very curious about this years Siggraph in Los Angeles. It was a great convention and an exciting and successful exhibition. Following we would like to give you a short insight of what we´ve experienced at Siggraph 2015.
Human Render Node - Raffle
Besides giveaways like bags, yo-yos, luminous pens and renderpoint coupons we also presented our own creation, the "Human Render Node" at Siggraph 2015. Using a special device crank handle, the attendees had to render images with their own physical strength. Most of all timing was important. The 3 best highscores could win up to 1000 Renderpoints a day as well as a useful Powerbank. Unsurprisingly, the participants used very creative ways to beat eachothers highscores, came back, tried again and challenged eachother more and more. Both an impressing and sportingly challinging competition. But even if you didn´t make it to the "Top 3", you´d still have a chance to win Renderpoints. Amongst all other participants we raffled additional Renderpoints on 8GB usb flash drives.
Thank you all for participating!
We would like to thank some of our users for providing their work for rendering them on our "Human Render Node" at Siggraph. Thanks to Tom Stracke, Andy Lefton, Caue Rodrigues, Alesandre Jarek, Total Real, Jellyfish Collective...
Meet & Greet
Siggraph 2015 was a great chance to meet our partners, freelancers and companies that wanted to get to know us. We have had great and interesting conversations.
We´ve been very happy to meet our users personally and to talk in a relaxed and stress-free environment without any deadlines ;) Thanks to all who stopped by our booth and gave us feedback or just said hello!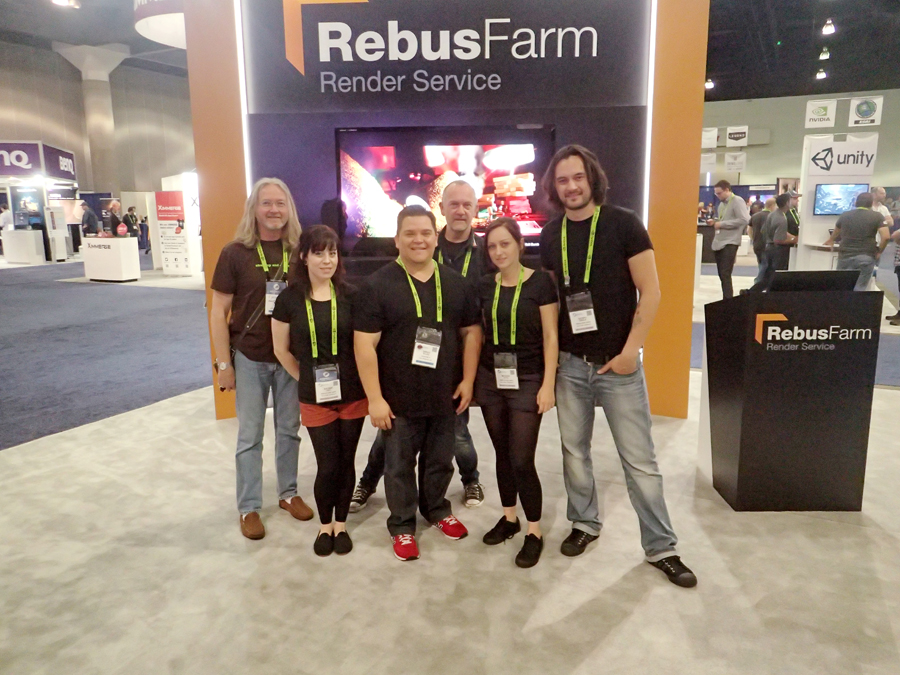 Finally we also got to meet Andy Lefton! After a lot of email exchanges it was great to meet the creator of "Two Worlds" in person, a very cool and likable guy. Thanks for everything, it was very nice to meet you.
CGSociety Interview
On the second day our Head of Support, Gerphil Niebur gave an interview to CGSociety. You can watch the interview on youtube: https://www.youtube.com/watch?v=roP9BtTUfeM
We would also like to thank "synapse" for helping creating our booth in Los Angeles. Thanks Tanya and thank you John for taking care of everything during the exhibition!
After these exciting impressions we have to get back to daily business...but we are already looking forward to the next Siggraph!
---
Saturday, August 1st, 2015 by Nadine Obst

We are happy to introduce to you our Artist of the Month August 2015: "BigStudios" from Brazil, a CGI Studio with 8 years experience in creating 3D stills and animations for advertising agencies.
Check out their marvellous creations : www.bigstudios.com.br
The studio has a wide range of experience, from 2D & 3D illustrations and animations to photography and retouching. Their entry, a highly complex clock for the "Itau Bank", symbolizes the bank´s ability to deal with the variety of the financial world. "We love to produce high complex images! Rebus is helping us specially in these ones ... a service we truly admire!" Their creative team attaches great value to brainstorming: "We never start an image without planning and study, so each image we use to do hand drawing studies for concepts and color composition, before we work on the 3D model." The image was made with Maya and rendered at Rebusfarm.

They´ve also created a fantastic animation of the "Itau Bank" clock in which you can see how every little detail was brought to life in this wonderful composition.
If you want to be our next winner in the upcoming month September and win 250 Renderpoints , just visit our facebook page, upload one of your self-made 3D images and send us a personal message with your email address. We'll choose the best image and will contact the winner.
---
Thursday, July 30th, 2015 by Rory Fellowes

An Interview with Alfonso de la Cruz, 3D artist and creator of "9:30am"
Alfonso de la Cruz and his fellow workers at Jellyfish Collective S.A. de C.V. are all natives of Juarez on the Mexican side of the border with Texas, a town known, sadly, more for its history of violence than the good families and people who are the great majority of its citizens.
"Our main goal was to put the name of our city Juarez in a better shape around the world, but starting with the rest of Mexico. So doing the kind of work that is mostly made in Mexico City, a city with a very bad reputation like Juarez, was a first step to start making people see our city as a place that wants to develop, and that not everything is about violence here."
"We were born here and we're proud of our families, friends and the life this border zone has given to us."
The film is the elegantly told story of a small boy having his breakfast, brought to him by the unseen (except for her hand) woman he lives with, at 9:30am, and the dreams and ideas that come to him in the process.
"I was raised by my great grandmother and almost everything that happens in the short film happened to me in real life. Being raised in that way helped me to understand life in a special way. I wrote the story at night over about two weeks and almost at the same time I made a rough storyboard. 9:30 in the morning is the time when I used to have breakfast with my great grandmother."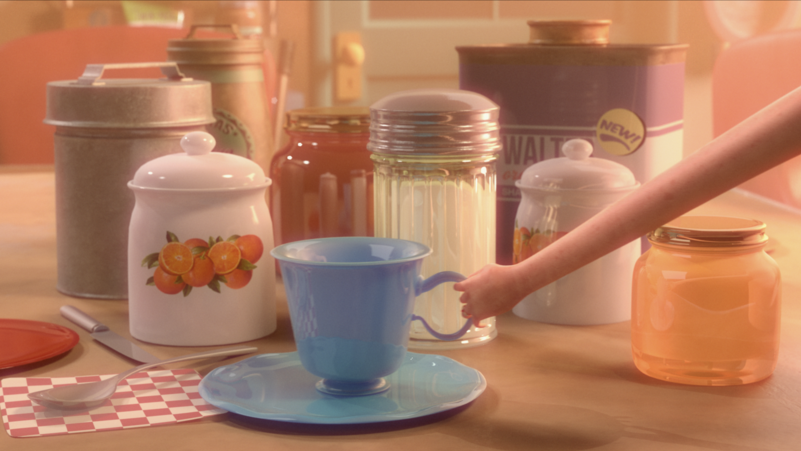 The look of the film is particularly attractive, carried through to every detail, and giving the whole film a certain magical quality.
"The main idea was to use warm colours like in the morning, when the birds are outside chanting and the sun light passes through the windows and tints everything in an orange colour."
The style, which to my eye has a definite feel of Latin America, bold colours and smooth surfaces, was in fact, according to Alfonso, the result of technical demands, or rather, the technical limitations of the ambitious members of the company. "None of us were animation professionals, so we designed everything to be easy to develop."
"9.30am" took around ten months to complete. There were seven people in the company, of whom only three had any experience with 3D software. Alfonso told me that there was no other company producing 3D work in Juarez, that that sort of work is only done in Mexico City, so the three who understood the process had to find a way to communicate their knowledge to the rest of the crew. The film was their training programme, and the basis on which they designed their pipeline and workflows.
For this reason it was useful for the company, which was formed for the purpose of making "9.30am", to start out with a project of their own, without a specific deadline, or at least, not a deadline with penalties if they missed it (in the end they missed their delivery date by a month, largely because only two of the team could do the lighting, and there was no time to train the others in that skill).
Everything was created in Autodesk Softimage, rendered with Arnold, and composited in Nuke.
As so often, adversity was their friend. Whatever the reasons for their design and execution decisions, they have made a film full of originality and charm.
Rendering with Rebusfarm
They came to RebusFarm for their rendering. This was what led me to ask to talk to Alfonso about the project. I asked about the render process. His answer was as gratifying as it was expected.
"Our render process was extremely easy and practical with RebusFarm. The RebusFarm system is literally like magic. Render times were different on every shot, but usually once I submitted a shot, It took from around 10 minutes to an hour to be ready on RebusFarm. Render times in the studio machines were around 2 to 3 hours per frame."
"We made some calculations about how long it would take to render everything with the 7 computers at the studio and it was like, 22 years!"
Once again, RebusFarm proves itself an invaluable asset to any studio and particularly to small studios with big ideas, such as Alfonso de la Cruz and his team at Jellyfish Animation.
Having already won Best Animated Short Film at FICM last year, "9.30am" is currently being shown in competition at several festivals, so it won't be released online for a while yet. It was recently shown at GIFF, the Guanajuato Film Festival. The next showing will be at Ottawa Animation Festival, and after that it will be screened at Mar de Plata in Argentina.
Meanwhile here is the trailer, and with it, best of luck to the team at Jellyfish Animation in Juarez.
---
Friday, July 3rd, 2015 by Nadine Obst

SIGGRAPH 2015: We´re coming! - Los Angeles 9.-13. August 2015
The SIGGRAPH conference and exhibition is a five-day interdisciplinary educational experience including a three-day commercial exhibition attracting hundreds of exhibitors from all over the world. The conference also hosts the international SIGGRAPH Computer Animation Festival, showcasing works from the world´s most innovative and accomplished digital film and video creators.
Certainly, RebusFarm will be there as an exhibitor! Preparations are running and we are happy to meet you there at our stand 536!
We´ll prepare a raffle to win up to 1000 Renderpoints every day!
Should you be interested in visiting us, please contact This email address is being protected from spambots. You need JavaScript enabled to view it. and we will put you on our list and send you an invitation.
We look forward to seeing you there!

---
Login