Thursday, June 25th, 2015 by Margarete Kitel


We are very happy to join the animago AWARD 2015 as a sponsor and exhibitor. Just in time for the extension of the deadline to the 20th of July 2015, RebusFarm increases the incentive for participating in the animago competition.
Every Digital Artist who contributes to the animago competition, receives a bonus code of 100 Renderpoints worth 100 €. Of course the bonus also applies to all the participants that are already registered.
After the entry deadline, animago will send an email to all the participants with the respective bonus code. Also included is all the important information about how to redeem the code and the render process at RebusFarm. You can redeem the code until the 31.12.2015.
The animago AWARD has been acknowledging the best works in the fields of 3d animation & still, visual effects and visualization since 1997. This year there are nine different categories. The winner of "Best Young Production" will receive 3000 Euro.
You can find all the information about the categories here: http://www.animago.com/en/award/categories/
The animago Jury chaired by Günter Hagedorn will choose the 5 nominees and the winner of each category on the 10th of August 2015.
Here you can see the Experts which will form the jury this year: http://www.animago.com/en/award/jury/jury-2015/
We are looking forward to numerous submissions and the animago AWARD & CONFERENCE on the 15th/16th of October.
---
Thursday, June 11th, 2015 by Trevor Hogg

A native of France who was surrounded by art, music and films growing up, Alexandre Jarek studied architecture at the CREAD Institute while self-educating himself on the skills required to become a CGI artist. "I started doing 3D Artworks because of my studies. I studied interior design for 4 years and I firstly used 2D artworks [drawings, sketches] to represent my concepts. But gradually I became more interested in using 3D tools which were more flexible than 2D." The Internet was a great source of education. "There are a lot of good blogs where it is easy to find great resources such as Ronen Bekerman's Blog, 3DTotal, and CGArchitect. You may also find online trainings such as courses by Grant Warwick. I started with CGTuts and especially, tutorials made by Ben Tate."
Different elements need to be kept in mind when developing 3D and 2D artwork. "2D is mainly dealing with depth perception and how to fake it. In 3D you do not need to care about the perspective since you're already working with three dimensional meshes but you have to deal with composition." Jarek has created quite a buzz on the Internet by illustrating his ideal IKEA home which was inspired by a single picture discovered on the official website of the Swedish furniture retailer; he has taken the time to provide RebusFarm with some insights into his creative process and workflow.
What sort of visual research did you conduct?
"I focused on well composed pictures and real world photographs. Since I'm not an expert in photography, it was important for me to gather good references and mimic what works and avoid what does not."
What software programs did you use?
"I use several applications, but for this particular project I used 3ds Max [for the major part of the model], Marvelous D [for the fabric creation], V-Ray [as a render engine] and Adobe Photoshop for the post processing part."
What was your workflow?
"I start by gathering as many references as possible which are really important since I always try to reproduce the real world and then, it's all about 3D which involves modeling, lighting, texturing, rendering and post-production.
For the modeling part, I started with the main structure such as the walls, floor, and ceiling. I then dealt with the details, like windows and doors. For the bed, I used Marvelous D which is great software program to deal with fabrics and it is much easier to use than it appears. When the modelling is complete I try to find a good atmosphere with the lighting, and then work on the shaders and materials."
How did you approach the required modelling?
"I followed references and tutorials about how to create creases and folds with Marvelous D. The most difficult part was to recreate the real world fabrics feeling with its shapes and natural deformations. In the end, it took a few tries with the software program and that was good!"
What was involved in producing the floor, fabric and light?
Floor: "I modeled the floor, plank by plank. I wanted to give each plank a different height from the other and put them in place separately. Of course, this takes a bit of time and I could have used some plug-ins such as Floor Generator but I didn't. I unwrapped the planks to create a different Map for each one."
Fabric: "All of the fabric parts, like the bed sheets and pillows, were created by using Marvelous Designer 3. This is a powerful software program that produces great results. I won't go through the all process about how to create fabrics since there already are a thousand of tutorials on the web. I'll just show you some wireframe shots."
Lighting: "Three different lights were used in this scene. There are two V-Ray lights [set as 'Plane'] coming through the windows, and also a V-Ray sun. And finally, a V-Ray light material for the picture which I used as a background."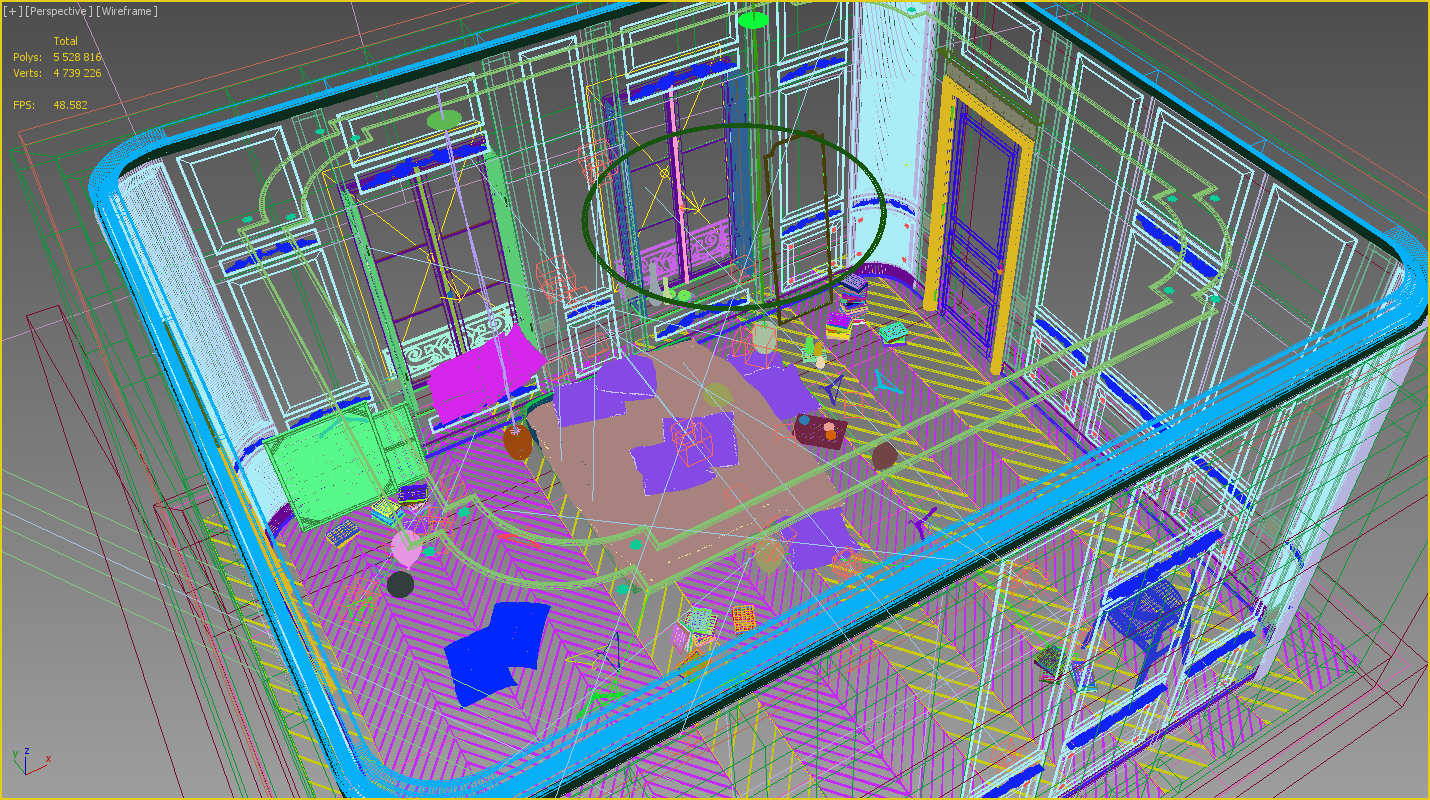 What materials did you use?
"In this particular scene it is mainly plaster, wood and fabrics. Most of my shaders used V-Ray Dirt and custom specular maps."
How did you go about deciding the different camera positions and exposures?
"The camera angles and exposures came from photographs that I used as reference."
What was the attraction to using RebusFarm and what did the rendering service enable you to achieve with the project?
"I use only one workstation to produce 3D renders so the render time can be a real issue. The services offered by RebusFarm enable me to avoid long render times. Once I'm ready to go for final renders I just have to click on the "send" button and there we go! RebusFarm provides a ready-to-use plugins that simplify the way you send your project to their render farm and it is easy to use."
What was your biggest challenge and how did you go about devising the solution?
"The biggest challenge was dealing with render time! I was only using a single i7 core machine as a render station and it is not a brand new one. Investing in my own render farm is out of the question. The final renders were calculated in 4000px for the biggest stills using brute force. I also created a small animation. I couldn't really wait for months to calculate the video so I had to optimized the render settings and find a good balance between time and quality."
Is there anything you would like to add?
"I'd like to thank the RebusFarm team for their help and support. Promoting my work was a great opportunity so far!"
See more: http://alexandrejarek.com
Trevor Hogg is a freelance video editor and writer best known for composing in - depth artist and movie profiles for AWN, CGSociety, 3DTotal, Live for Films and Flickering Myth.
---
Tuesday, June 2nd, 2015 by Margarete Kitel

We are happy to announce that the 3D Artist of the Month competition is back on our facebook page!
The first Artist of the Month is Dimitar Gongalov with "Loft Office", a great interior visualization.
He created this image in 3ds Max 2014 with V-Ray and did the final corrections with Photoshop. Dimitar Gongalov works a lot and likes to pay attention to detail, lightning etc. Creating a mood or presenting a feeling/emotion through his images is very important for him.
Dimitar says: "...I try to improve my skills each and every day, stay passionate ... if you lose that passion everything becomes mediocre."
That passion came definitely through with that image. Great work!
We asked Dimitar to tell us more about his project: "This project is a team effort of my studio - Cholakov - Gongalov architects with great support from my studio managing partner arch. Victor Cholakov. "
"This image is a part of a set of product (catalog) visualizations to present a leading office furniture company its office tables. Our task is to create cool interiors that can present the company items in the best way possible. Images will be used instead of real photos for company printed catalogs and flyers. This particular image is made only for personal pleasure... "
Congratulations and thanks for this great work, Dimitar!
If you want to be our next winner in the upcoming month July, just visit our facebook page, upload one of your self-made 3D images and send us a personal message with your email address. We'll choose the best image and will contact the winner.
---
Monday, April 20th, 2014 by Rory Fellowes

An Interview with ANDY LEFTON, freelance 3D and VFX generalist
After completing his college degree early this century, Andy has accumulated a wide range of qualifications around his central focus on 3D and VFX. He has, as he puts it "experience as a creative director, CG supervisor and everything in between."
"Currently I work on a lot of commercial work doing 3D and also create and write tutorials for Digital Tutors. I've been freelance for about a year now and love it! I would like to get more into film, so I've been keeping my horizons open for that opportunity."
Thinking up Two Worlds
Working sketches and models for "Two Worlds"
We asked Andy about his personal project "Two Worlds", a short animation about the fortuitous meeting of two persons, entirely different, which is to say, one is an organic creature and the other is a machine! Total opposites in the most basic way.
We asked him how the idea came about, and how long has this been going on?

"The whole idea began circa 2001-2002 while I was still in college. I was getting my degree in media production which consisted of all realms of media (3D, web, interactive, video, audio, etc). But my primary goal was 3D and VFX.
I wanted to write a story about two opposites coming together out of necessity. It's a cliché, but I also wanted to stay away from the quintessential element of 'opposites attract'. Having each character be a separate form of life, one being organic the other mechanical helped me drive that plot a bit more."
"Once the idea was rolling around in my head, I actually began creating an animatic with very rough thumbnail ideas. Then I did the story as a student animated film project. It was really amateur and rough, but I enjoyed it regardless.
After that, I just moved on with life. I progressed into the professional field of 3D and VFX and around 2006-2007 I had the idea to resurrect the film and simply do it over. I began building out boards and assets and just working out ideas. After a few months of pondering the thought of re-doing the project, I decided to give it full force... And so it began!"
An early storyboard for "Two Worlds"

L.O.I.D. work in progress
Making it happen
When you see the film (or even the short samples featured below), you will realise this is a highly complex as well as beautifully realised concept. There must have been quite a crew working on this?
"I was working full time at a post production house here in Minneapolis. I recall finishing the boards and concepts and was looking to have said studio assist in the production since everyone there seemed enthused. I set up confidential emails to share the storyboards and ideas with others, but unfortunately it turned out I was to be laid off from my position due to the recession.
I realized I was in this alone, and that was perfectly fine with me, but I knew I had quite a bit of work to do. So I would say from 2010 to 2015 was the core of production time in getting this up to completion. I did hire on a composer and sound designer to assist on the audio side of things, and my wife was a great inspiration. She helped me carve out ideas and even helped name the characters in the film, Snibb and L.O.I.D."
The technical aspects
"I used Cinema 4D for all 3D, Dynamic simulations, animation, etc and After Effects for all compositing and VFX. As for who worked on it? From concept to completion, I was the sole artist on the entire film. Apart from the talented audio folks I hired for score and sound design, although I also did a little bit of that.
The compositing was a very heavy aspect to the film as well. Each shot has a multitude of multi-pass layers, 2D plates, environment passes, and effects."
Rendering with RebusFarm
Andy told us, "The rendering process was my biggest fear. I felt that it would hinder my overall motivation and production pipeline. Considering there's over 100 shots, it was a daunting thought."
This reporter has spoken with quite a few people in recent months about the online cloud render service offered by RebusFarm, ever since the release of RebusFarm 2.0 in fact, and it is almost boring to hear them all give pretty much the same report. As Keith English, another enthusiastic user, said recently, "Rebus Rocks!"
So it was no surprise to hear similar comments from Andy. Along with this praise, Andy gave us some useful statistics about the service.
"RebusFarm was an invaluable asset for the completion of Two Worlds. If RebusFarm wasn't in the picture (no pun intended), we wouldn't be having this interview. Originally, I was just planning to render locally on the couple of render nodes I had in my home office, but that was not feasible, if I were to hit my rough deadline to release the film. So I hooked up with RebusFarm and it was so very simple to use and handled all tasks easily with no issues at all. An average render time per frame with the highest quality settings, multipass, object buffers, 2K resolution, etc was approximately 7-10 minutes per frame.
I had only one issue, where I uploaded a scene to render and there was a glitch or hiccup in the scene file. So when I got the render back, I was frustrated that I let that slip. I emailed RF and they immediately credited my render and I was able to re-render the shot without having to pay. Great customer service!"
The biggest challenge for Andy in completing his project was time. Life has to be lived, homes made, families maintained. And on top of all that, and the drain on time available for the project, working in 3D and VFX not only drains away time available to work on the project, it also sucks up creative energy.
Somehow Andy beat that wall, got the work done, and with the invaluable help of RebusFarm in rendering his gem of a movie, "TWO WORLDS" is heading for online release today.
See the full movie here:
https://vimeo.com/channels/twoworlds
---
Monday, February 2nd, 2015 by Margarete Kitel
We are happy to announce our new Rebus Render Farm Software RebusFarm 2.0. Many years of experience and close cooperation with our customers has helped us to advance our render service to meet the user needs.
The new automated render technology is designed to provide a seamless experience and to get you up and running in a matter of minutes. The monitoring of render jobs and the communication between the user workstation and the Rebus Render Farm is now in real-time!
RebusFarm 2.0 will work parallel with the prior manager for four weeks.  Please use the four weeks to change over.
It is not possible to use Rebus Manager and RebusDrop at the same time. If you want to use one of the programs please close the other one first.
Download RebusFarm 2.0 here.
The new system RebusFarm 2.0 consists of three components:
RebusDrop - enables the upload and download of the user data  
Farminizer - an advanced plugin for your 3D software that makes sending error-corrected renderjobs easy
ControlCenter - for monitoring your jobs using any browser on any device
 Features
Easier and faster workflow 
Faster upload and download
Secure file transfers via sftp and added firewall compatibility 
Easy access to your jobs from anywhere (ControlCenter)
You can now edit your online jobs and export new jobs even if there are still projects downloading/uploading. No needs to wait until all of your projects are uploaded anymore (ControlCenter/Farminizer)
All updates are done automatically in the background. No time-killing local software updates anymore
Notifications about your render jobs in the system tray (RebusDrop)
More flexible priority changes: the priorities (economy, business, premium) can now be changed before the job starts to render or while it's rendering (ControlCenter)
Faster project export - while working on scenes the Farminizer already uploads relevant files in the background without impacting the user's workflow, so most of the files will already be uploaded when submitting the render job. (optional)
Take a look at how it works using 3ds Max as an example:
More tutorials how to use RebusFarm with other 3d applications click here.
Please note that we don't have tutorials for each software right now. We will upload the missing tutorials as soon as possible.
Thank you for your understanding.
---
Login